Popsicle Stick Ship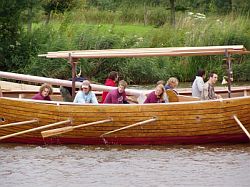 Constructed of 15,000,000 popsicle sticks, The
Sea Hart Viking
was expected to set sail today in hopes of a Guinness world-record-making Atlantic crossing.
We here at Asparagus Pee say "bon voyage" and wish them well.
(If you click the picture, there's a representative shot of a laminated plank being glued up out of popsicle sticks, and there's a pretty full gallery behind the Sea Hart link above.)
Labels: neat stuff
Back to Chris & Janet & Emily Get Wired!
&copy2003-2005 (and likewise, to infinity and beyond)
Everything original here is by Chris Benson,
everything else belongs to someone else.
You're welcome to use my stuff freely, but why bother,
seeing as I've already done so?